Lindy
USB 3.0 Active Extension 10 m
Item:

ACC0010106-000
St. A: USB-A w., St. B: USB-A, f., Contacts: gold-plated, Shielding: aluminum-magnesium braiding, Jacket: PVC, Article: 43156.
All product info
Product information - Lindy USB 3.0 Aktivverlängerung 10 m
USB 3.0 extension on the USB port type A of the computer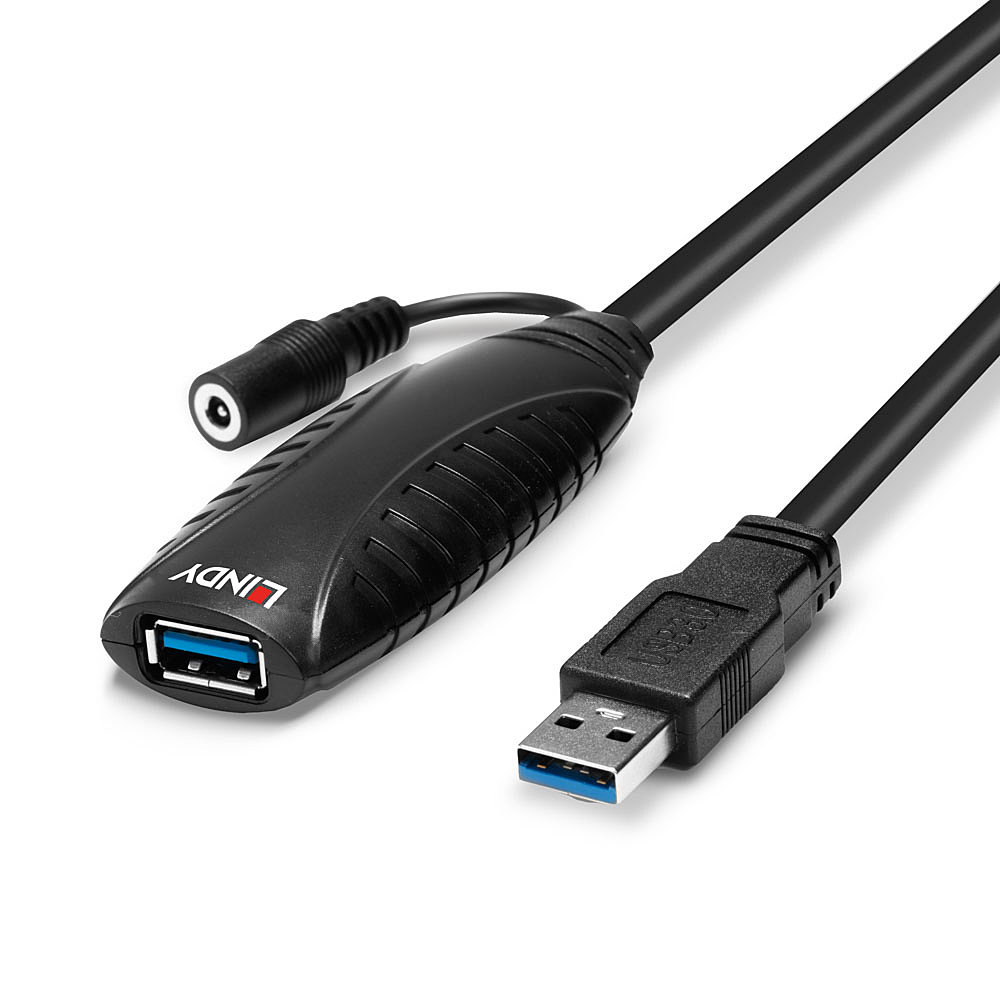 Lindy USB 3.0 Active Extension 10 m Specifications:
Sheath diameter: 6 mm
Conductor material: tinned copper
Conductor dimensions: 28/28/22 AWG
Shielding: 85% aluminum-magnesium braid
Minimum bending radius: 60 mm
Operating temperature: 0 °C - 55 °C
Storage temperature: -20 °C - 70 °C
Transmission medium: Twisted Pair
Transmission technology: USB 3.1 Gen 1/3.0
Part number manufacturer: 43156
The Lindy USB 3.0 Active Extension with 10 m length in black supports data transfer rates up to 5 Gbit/s. It is compatible with all computers with USB-A ports. It is also Google-certified for bridging long distances and active connections between the ASUS Chromebox and a USB camera in an installation with Google Hangouts Meet hardware.
It can be used to extend USB 3.0 devices to 10 meters, allowing flexible positioning of the devices in question. To maintain good performance over this distance, the extension cable has active electronics. Active cables have electronic circuitry embedded in the cable with integrated circuits. This compensates for impairments. Due to this technology, active USB cables do not experience any losses even over long distances and still guarantee fast data transmission. Two active extensions can also be easily connected in series if a longer length is required. For devices with high power requirements, the extension has a DC socket for a power supply. A power supply unit is not included in the scope of delivery.
Good materials round out the cable. Tin-plated copper conductors also contribute to flawless data transmission. Both these and the gold-plated contacts reliably protect against corrosion. The PVC jacket is elastic and cold-resistant.

Features:
Manufacturer: Lindy
Colour: Black
Cable Length (m): 10
Socket Side A: USB-A plug
Socket Side B: USB-A socket
Contacts: Gold-plated
Cable Type: Data Cable
Sheath: PVC
Lindy USB 3.0 Active Extension 10 m
Klotz TAN08DD01.0 Multicore 1 m

Compare with similar products
Department Information - Accessories
Music Store professional in Cologne
DV247 Music Store in London
One of the most modern logistic centres