Neutrik
NBB75DFIB-P Chassis Jack
Item:

ACC0009844-000
BNC chassis connector, connector type: female, contacts: gold plated, color: black.
All product info
Product information - Neutrik NBB75DFIB-P Einbaubuchse
BNC chassis connector in black chrome plated D-housing
Neutrik NBB75DFIB-P chassis connector for BNC is suitable for serial and digital video signals. The 75-Ω BNC chassis connector offers excellent return loss values ideal for HD signals. Its isolated panel mount protects against grounding problems and interference from other connections routed through the same panel.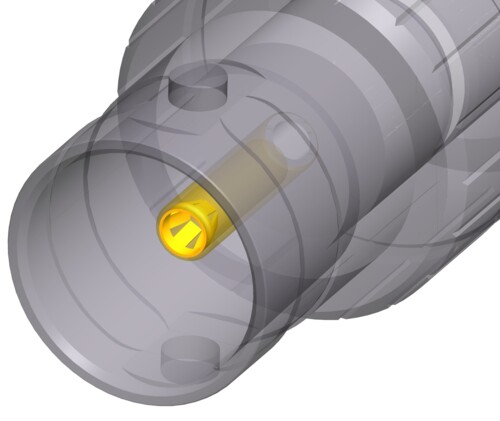 Excellent shielding
Their material also testifies to the stability and high quality typical of Neutrik. The milled brass body and the closed contact design ensure a long-lasting and good connection. The gold-plated cage contact ensures excellent shielding and protection against corrosion.
The built-in socket is also characterized by easy handling. Since its connection protrudes slightly in the housing, BNC cable connectors can be locked and unlocked more quickly and easily. The possibility of colour coding also ensures clarity.

Separately available accessories for Neutrik NBB75DFIB-P panel jack at MUSIC STORE professional:
Specifications:

Connection type: BNC 75 Ω
Gender: female
Signal Type: HD, SDI, Video, AES/EBU, Composite, YUV, RGB, RGBH, RGBHV
Contact resistance: ≤ 3 mΩ (inner)
Contact resistance: ≤ 2 mΩ (outer)
Dielectric strength: 1.5 kVdc
Impedance: 75 Ω
Insulation resistance: > 5 GΩ
Rated voltage: <50 V
VSWR: ≤1.03/>37 dB up to 1 GHz, ≤1.05/>32 dB up to 2 GHz, ≤1.08/>28 dB up to 3 Ghz
Insertion force: < 25 N
Lifetime: > 1000 mating cycles
Locking: Bayonet
Mounting direction: Front mounting
Housing shape: D
Insert: PTFE
Housing: Polyacetal (POM) (Insulation Sheell)
Housing coating: Optalloy®
D-Shape housing: Zinc diecast (ZnAl4Cu1) gal black chrome plating
Temperature range: -30 °C to +85 °C

Features:
Manufacturer: Neutrik
Socket Type: Female
Built-In Socket: Yes
Contacts: Gold-plated
Colour: Black
Neutrik NBB75DFIB-P Chassis Jack
Compare with similar products
Department Information - Accessories
Music Store professional in Cologne
DV247 Music Store in London
One of the most modern logistic centres