Neutrik
NBB75DFIX Chassis Jack
Item:

ACC0009847-000
BNC chassis connector, connector type: female, contacts: gold plated, color: black.
All product info
Product information - Neutrik NBB75DFIX Einbaubuchse
BNC cable socket for panel mounting
Neutrik NBB75DFIX chassis connector is suitable for common BNC cable connectors and impresses with grounded panel mounting and excellent return loss values. The optimal isolation ensures a larger margin with poorer return loss. In case of deviations, the signal transmission therefore remains constant and does not suffer any interruptions.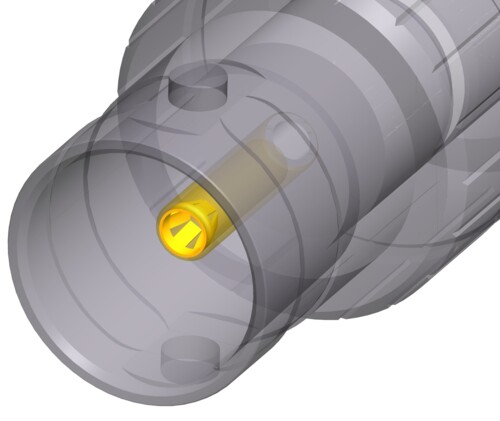 Excellent shielding and protection against corrosion.
Their material as well as their construction also testify to Neutrik's typical stability and high quality. The milled brass body and the closed contact design ensure a long-lasting and good connection. The gold-plated cage contact provides excellent shielding and protection against corrosion. As the connector is recessed in the standard D-format housing, it is additionally protected.
The possibility of coloured markings also ensures clarity and is helpful for structured organisation.

Separately available accessories for Neutrik NBB75DFIX chassis connector at MUSIC STORE professional:
Specifications:

Connection type: BNC 75 Ω
Gender: female
Contact resistance: ≤ 3 mΩ (inner)
Contact resistance: ≤ 2 mΩ (outer)
Dielectric strength: 1.5 kVdc
Impedance: 75 Ω
Insulation resistance: > 5 GΩ
Rated voltage: < 50 V
VSWR: ≤1.06 / >30 dB up to 6 GHz, ≤1.13 / >24 dB up to 12 GHz, ≤1.22 / >20 dB up to 18 Ghz
Signal type: UHD, SDI, Video, AES/EBU, Composit, YUV, RGB, RGBH, RGBHV
Insertion force: < 25 N
Lifetime: > 1000 mating cycles
Mounting direction: Front mounting
Housing shape: D
Insert: PTFE
Housing: Polyacetal (POM) (insulation shell)
Shell plating: Antraloy
D-shape housing: Zinc diecast (ZnAl4Cu1)
Temperature range: -30 °C to +85 °C

Features:
Manufacturer: Neutrik
Socket Type: Female
Built-In Socket: Yes
Contacts: Gold-plated
Colour: Black
Neutrik NBB75DFIX Chassis Jack
Compare with similar products
Department Information - Accessories
Music Store professional in Cologne
DV247 Music Store in London
One of the most modern logistic centres