Neutrik
NBB75FA BNC Feedthrough
Item:

ACC0009852-000
Product information - Neutrik NBB75FA BNC-Durchführung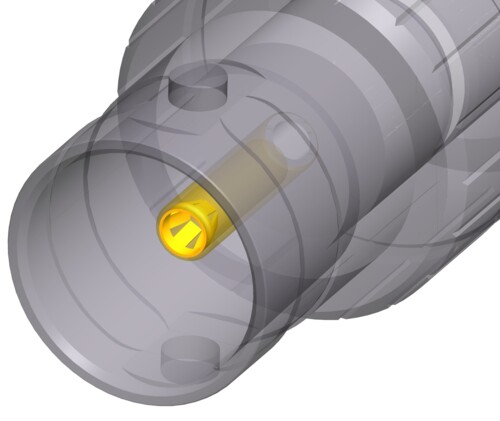 For serial and digital (HD & UHD) video signals.
The Neutrik NBB75FA feedthrough for BNC is suitable for serial and digital video signals. The 75 Ω BNC feedthrough adapter offers low return loss values which are ideal for HD and UHD signals.
The material used also testifies to Neutrik's typical stability and high quality. The milled brass body and the closed contact design ensure a long-lasting and good connection. The gold-plated cage contact provides excellent shielding and protection against corrosion.
Specifications:

Connection Type: BNC 75 Ω
Signal Type: HD, SDI, Video, AES/EBU, Composite, YUV, RGB, RGBH, RGBHV
Contact resistance: ≤ 3 mΩ (inner)
Contact resistance: ≤ 2 mΩ (outer)
Dielectric strength: 1.5 kVdc
Insulation resistance: > 5 GΩ
Rated voltage: <50 V
VSWR: ≤1.03/>37 dB up to 1 GHz, ≤1.05/>32 dB up to 2 GHz, ≤1.08/>28 dB up to 3 Ghz
Insertion force: < 25 N
Lifetime: > 1000 mating cycles
Locking: Bayonet
Insert: PTFE
Housing: Brass (CuZn39Pb3)
Temperature range: -30 °C to +85 °C

Features:
Manufacturer: Neutrik
Socket Type: Bushing Adapter
Built-In Socket: No
Material: Brass
Contacts: Gold-plated
Colour: Silver
Neutrik NBB75FA BNC Feedthrough
Compare with similar products
Department Information - Accessories
Music Store professional in Cologne
DV247 Music Store in London
One of the most modern logistic centres