Neutrik
NCJ6FI-H Combo Chassis Socket
Item:

ACC0005339-000
Panel jack, Plug: XLR 3-pin female, Plug: 6.35 mm jack stereo female, Contacts: gold plated, Color: black.
All product info
Product information - Neutrik NCJ6FI-H Combo-Chassis socket
Built-in socket without 'switching' contact
Neutrik NCJ6FI-H combo chassis jack combines a three-pin XLR connection with a 6.35 mm stereo jack. The XLR input also combines both a balanced and unbalanced input in one housing. These combinations make it the perfect choice especially in tight spaces. Its corrosion-protected gold-plated contacts also ensure a long service life.
As there is low capacitance between the conductors, the chassis jack is also suitable for digital audio.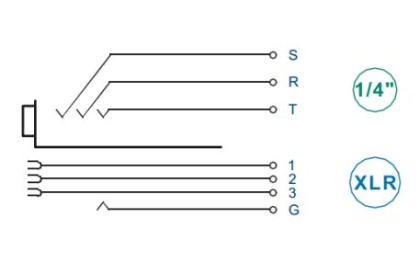 Accessories for Neutrik NCJ6FI-H Combo Chassis Jack at MUSIC STORE professional:


Specifications:
Connection type: combo
Gender: female
Contact resistance: < 10 mΩ (XLR)
Contact resistance: < 20 mΩ (jack)
Dielectric strength: 1.5 kVdc
Insulation resistance: > 10 GΩ (initial)
Rated current per contact: 7.5 A (XLR)
Rated current per contact : 7.5 A (jack)
Rated voltage: < 50 V
Insertion force: ≤ 25 N
Insertion force: ≤ 25 N
Lifetime: > 1000 mating cycles
Front panel thickness: max. 7 mm 0.27"
Mounting direction: Rear mounting
Contact coating: 0.2 µm Au hard alloy over 2 µm Ni
Contacts: Bronze (CuSn6)

Insert: PA66
Locking element: Steel Ck67
Flammability: UL 94 V-0
Temperature range: -30 °C to +80 °C
Department Information - Accessories
Music Store professional in Cologne
DV247 Music Store in London
One of the most modern logistic centres